Special Events For Members
2022 Events
April — Tour of the Cottage Estate, Lubenham.
Two members' tours were arranged for this event. We hope all that attended enjoyed learning more about the Cottage Estate, which once belonged to Jack "Cherry" Angell. Our thanks go to Linda and David for all the hard work they put in to the visit, especially for opening up their houses and showing us their exhibitions in the Tower House and Gore Lodge. Many of you had heard of the Cottage Estate and now you know the history and its importance in the life of Lubenham.
---
Wednesday 29th June — Tour of Coventry
Unfortunately this coach trip to Coventry with a guided walk around the mediaeval centre of the city followed by a visit to the cathedrals had to be cancelled due to lack of numbers.
---
Thursday 21st July — Visit to Nevill Holt Hall – Evening guided visit to the outside of the hall and gardens and family church.
Garry Davies, one of our members, kindly arranged a visit to Nevill Holt Hall and Garden (a Grade 1 listed building), courtesy of the owner David Ross and House Manager Deborah Wakefield. Rosalind Willatts, former MHDC Conservation Officer, guided us on a tour of the outside of the building, looking at its history and architecture, and head gardener Andy showed us round the gardens. We also visited the family church.
---
Saturday evening 13th August — Summer Supper at 6:30pm in the Village Hall
This year we decided to try something different for our members' summer get together.
The event was free to all LHG members, but guests and non-members were welcome at £5 per head. We provided the food and soft drinks but, those who preferred something stronger, brought their own bottles. There was a raffle and David Hannibal ran one of his short, but fiendish, quizzes!
---
Wednesday afternoon 5th October — Guided tour of the Abbey Park area of Leicester at 2pm
Opened 140 years ago by the Prince and Princess of Wales, Abbey Park lies along the River Soar in Leicester. In 1932 the Park was extended to include both the site of Leicester's mediaeval abbey, where it is believed Cardinal Wolsey was buried in 1530, and the ruins of the 16th century Cavendish House, former home of the ancestors of the Dukes of Devonshire. Today, the park proudly displays much of its original Victorian charm and decorative design, yet continues to provide a peaceful haven in the centre of a hectic city.
We had a great Members' visit to Abbey Park, ably led by our Blue Badge Guide, Steve Bruce (such a fount of knowledge!). Even the rain kept off and we discovered why it is called The People's Park after it was created in the 1880s. It is well worth a visit.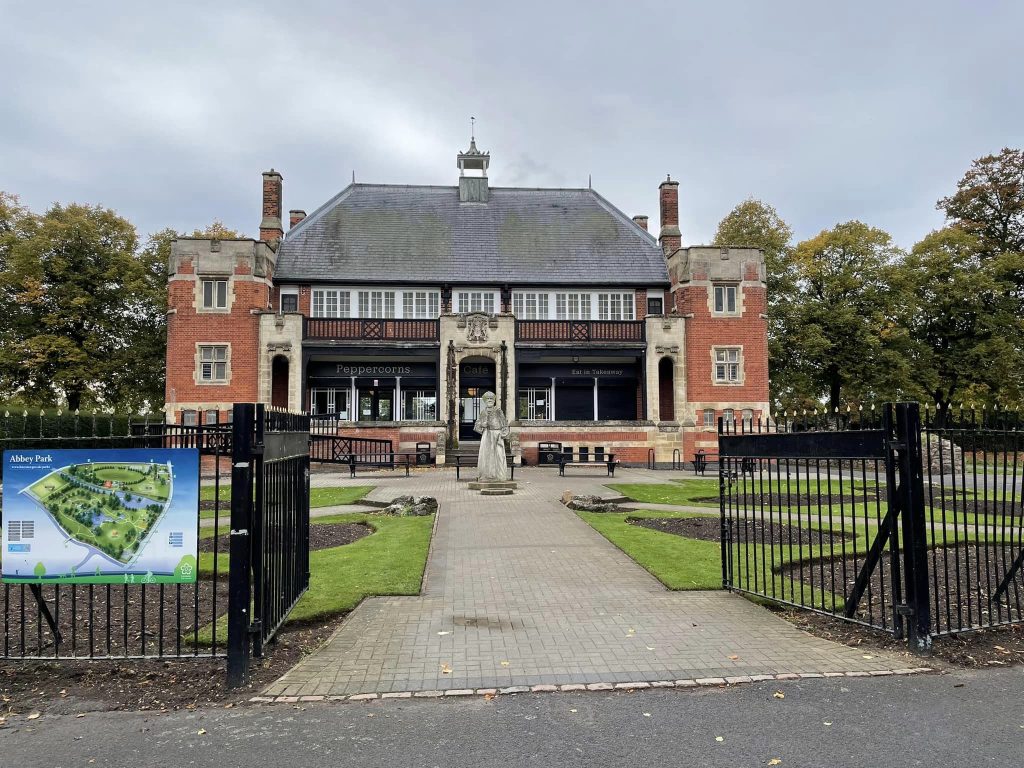 Saturday 29th October — Fun Quiz Night in aid of THE SALTPOND EDUCATION PROJECT, GHANA
All are welcome
Buffet, Licensed Bar, Raffle, and Cash Prize for winning team
Lubenham Village Hall
7.00pm
Tickets: £10 including buffet
---